With our Hospitality Service, operate your hotel or restaurant without worries
The hotel and hospitality industry have special requirements. On the one hand, they are usually characterized by seasonal business; on the other hand, customers are demanding ever more individualized services.
With a suitable virtual workplace solution, you can give your guests a perfect hotel experience, but also reduce your hotel or restaurant operations during scheduled seasonal breaks. Thanks to the ideal adaptation to the needs of your employees in the front or back office, their day-to-day business becomes remarkably easier.
The Leuchter CLOUD Hospitality Service is based on the Leuchter CLOUD Desktop Service and has been specially designed to meet the needs of the hotel and catering industry.
Webinar-Aufnahme: 100% Cloud Computing - Auf dem Weg zur Hotellerie-IT aus der Cloud
Dass Cloud Computing die Zukunft ist, bestreitet niemand. Dennoch gibt es neben vielen Vorteilen auch einige Tücken. In unserem Webinar sprechen wir Klartext über die Vorteile und Nachteile von Cloud-Lösungen, über Fallbeispiele aus der Praxis und was eine Umstellung bedeuten würde.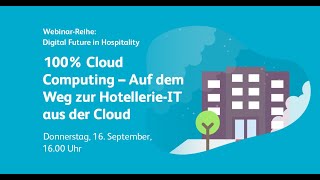 Perfectly coordinated Offer for the Hotel and Catering Industry
Opt for an all-inclusive package that provides you, as a basis, with a Microsoft Windows desktop featuring Office applications, mail services, utilities, and user memory for mobile working. Version upgrades and support are also included. This guarantees you a fast and technically secure working from home solution for your employees, who will always be independent of their device or location.
Cost-efficient rental model
Scalable and flexible – ideal for seasonal fluctuations
Cost adjustments during the off-season
Virtual workplace tailored to the needs of the hotel and catering industry
Innovative technologies for your digitization
High data security and high data protection
Including version upgrades and support
These hotels trust us already
Advantages for the Hotel and Catering Industry at a glance
24/7 support times without a hotline
We are there for you around the clock and process your concerns immediately.
Flexible prices
In the off-season you benefit from reduced IT costs
IT competence for the hotel and catering industry
Our specialists know the needs of the hotel and catering industry
Pay less in the Off-season
With the Hospitality Desktop-as-a-Service (DaaS) Cloud Service, Leuchter CLOUD offers a cost-efficient and secure virtual desktop for every device. All services are scalable and flexible. For example, we enable you to reduce costs during the off-season. No high one-off investment costs will occur.
As part of our all-inclusive package, we take care of: updates, backups, data storage and software operation.
With our modern workplace solution, we offer you the opportunity to take all the necessary steps regarding the unavoidable digitization of your hotel or catering business.
Around the clock Support Service
We know the hotel business; if help is needed, problem-solving must proceed quickly, as guests should not wait. Thanks to our Leuchter IT Operations Services, you benefit around the clock from professional support provided by highly trained IT specialists.
Leuchter as a competent and experienced IT Solution Provider for the Hotel and Catering Industry
Due to the digital expectations of guests, hotels and restaurants have special requirements for the IT infrastructure and thus also for the IT partner. At the same time, they are enormously exposed to seasonal fluctuations. For this reason, we have a specific offer in the program for hospitality businesses that meets the high requirements and at the same time enables cost reductions in the off-season.

Leuchter knows the requirements and needs, because we are a Trusted Supplier von HotellerieSuisse.
Your packages for best implementation
The right services for the right application. We have the solutions for you. You can combine our packages as you wish, so each employee receives the service needed to get the job done.
All pricing models include:
Microsoft Windows 10 Enterprise
Google Chrome, Edge Chromium, Arobe Acrobat Reader, 7-Zip, Greenshot, Notepad+
Leuchter CLOUD Protel optimal
Data: 100GB for enterprise data
Distribution via Leuchter CLOUD Software Verteilung
Access via Leuchter CLOUD Remote Work Access with MFA
Azure Active Directory Premium
100Mbps, best effort
Network unlimited
Microsoft Windows Server as Domain Controller 2vCores, 8GB vRAM, 50GB vStorage (OS only)
Citrix ADC (NetScaler), StoreFront, Studio, Director, License Server, Delivery Controller
daily backups (30 days)
Updates and version upgrade
Personal consultation
A team of various professionals will take care of your inquiries concerning the topics IT infrastructure, organisation, communication and co-operation in the modern business world. Please consign your questions and messages to our team. A proven expert in these topics will contact you.
We look forward to your inquiry!
To the contact form