Leuchter IT Operations - customised IT Outsourcing
With our Leuchter IT Operations Service Level Agreement (SLA) we take over operation and maintenance of your IT infrastructure at a binding price. Thanks to the various modules and options within the individual modules, the Service Level Agreement can be adjusted precisely to the respective requirements. Leuchter IT Operations is thus both a task outsourcing and a full outsourcing. Regardless of whether the IT infrastructure is installed on premises or services are already being obtained from a cloud.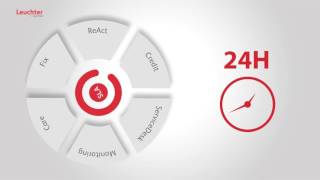 Various modules cover your specific needs:
Leuchter IT Care – Risk minimisation by outsourcing prevention tasks
With IT Care we pursue a health strategy. Through preventive measures, we minimise the risk of an unplanned shutdown of your IT server environment. Together with you, we will schedule which maintenance work must be carried out either by yourself or by us. In the process, we will be assisted by a precisely elaborated prevention list. The execution of these measures is carried out according to a predetermined rhythm from daily to yearly. IT Care covers all the preventive work required to keep your IT running smoothly and safely. IT Care is a proactive tool and does not involve reactive activities.
4 good reasons for choosing Leuchter IT Care
No losses due to sins of omission
Definitely more security
Plannable service windows at off-peak times or weekends
Early problem detection
Leuchter IT Fix – Full Outsourcing at a fixed price
IT Fix is ideal for companies not employing their own IT specialists. With IT Fix, we take over the entire responsibility for the operation and the support of clients (notebook, PC, etc.) and servers at a fixed price. This means that IT Fix covers all support costs for the operation of your IT at a flat-rate cost. With IT Fix your IT costs can be planned and additionally minimised by the conclusion of IT Care. Because the risk of troubles is significantly smaller if regular maintenance and preventive measures are performed.
3 good reasons for choosing Leuchter IT Fix
Package, predictable IT costs
Guaranteed support and troubleshooting, Optionally 24/7 service
Cost reduction possible thanks to prevention measures
Leuchter IT ReAct – Intervention guaranteed in case of problems
IT ReAct is dedicated to companies that want to refer to a reliable partner in case of an incident, which will solve the problem as fast as possible. It is ideal for companies that can not afford the risk of business interruption due to IT problems. To manage these operation-critical incidents, we are, in any case, reachable up to seven days a week. We will solve the problem within the promised response time of two or four hours and will stick to your problem until it is fixed.
3 good reasons for choosing Leuchter IT ReAct
Guaranteed response time in case of incidents
Assured reachability within two or four hours
Defined service number
Leuchter IT Credit – Problem solving at a reduced hourly rate
IT Credit is an alternative to the IT Fix module. By pre-booking a credit level, you will receive a discount on the hourly rate in the event of service provided by Leuchter. The hours defining the level can be claimed for over two years.
3 good reasons for choosing Leuchter IT Credit
Reduced hourly rate in case of IT problems, resolved by Leuchter
Fast targeted help
Guaranteed professional and competent problem solving
Leuchter IT ServicesDesk – more than just support
With IT ServiceDesk we simplify finding solutions to questions and problems for you and your employees, while being at the same time the interface to Leuchter IT Solutions AG. Using a single point of contact via a central phone number or email address, your employees may contact our IT ServiceDesk on weekdays between 7:00 am and 19:00 pm (for sensitive IT infrastructures even 7/24 service). All inquiries are recorded and documented in a central ticketing system (SCSM). Thus, the processing is always transparent and visible.
Our employees help quickly and purposefully. If necessary, we also rely on specialists or directly on the manufacturer.
4 good reasons for choosing Leuchter IT ServiceDesk
Guaranteed reachability for your employees on weekdays between 7:00 am and 19:00 pm
Central ticketing system
Fast targeted help
Wide range of know-how due to the involvement of specialists and manufacturers
Leuchter IT Monitoring – The current state of your IT under control
Due to high eventual losses of revenue in case of IT downtime, it is today essential to be informed about the exact health status of the company's IT infrastructure. With IT Monitoring, we keep the health status of your network under control, enabling us to immediately detect faults, analyse potential problems, and proactively intervene. Monitoring with IT Monitoring can either be done directly by us as a service, or we support your independent monitoring system with our know-how.
3 good reasons for choosing Leuchter IT Monitoring
7/24 monitoring – alert when a fault occurs
Meaningful reports enabling trend analysis
Proactive intervention
Leuchter IT On-Premises Support – Fixed half-day times for on-site support
With the Leuchter IT On-Premises Support, fixed times are planned on site for the customer to complete the work.
3 good reasons for Leuchter IT On-Premises Support
Fixed half-day times for on-site support
Planned work assignments
High user satisfaction
Personal consultation
A team of various professionals will take care of your inquiries concerning the topics IT infrastructure, organisation, communication and co-operation in the modern business world. Please consign your questions and messages to our team. A proven expert in these topics will contact you.
We look forward to your inquiry!
To the contact form