WLAN solutions in the hotel and restaurant
Generating added value with WLAN
In addition to running water, electricity and a place to sleep, a well-functioning WLAN in the hotel is now one of the standard services. This is confirmed by various studies: 96% of guests expect free and functioning WLAN in hotels. Whether it's to read the newspaper online, surf social networks, watch a movie on Netflix or participate in a video conference via teams. The quality of the WLAN determines the rating of guest satisfaction in portals like Booking, TripAdvisor & Co. We show you how you can add value with your WLAN solutions in the hotel.
Webinar recording: WLAN generates added value! How so?
A WLAN allows guests in the hotel and in the restaurant an uncomplicated, secure and fast access to the Internet with their own devices. That goes without saying! But your WLAN can do more! In our webinar, Yves Wedekind presents you with a bouquet of possibilities and which WLAN implementation variants come into question. We have already summarized the added value that a good WLAN can generate:
Increase guest satisfaction and thus star ratings on the website and in booking portals
Additional sales with the help of the Digital Concierge
Uniform infrastructure for all users
Security and availability guaranteed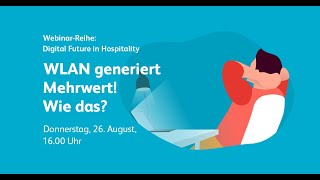 What is a good WLAN?
A good WLAN first of all provides a uniform infrastructure for hotel services and guests. Good coverage and signal strength is mandatory, which is ensured by overlapping cells. But signal strength is not the only decisive factor. Above all, a good WLAN also requires sufficient bandwidth. A qualitative WLAN solution in the hotel also ensures the connection with Quality of Service (QoS) and provides a good user experience for customers and employees.
WLAN security
thanks to segmentation and role concept
A secure WLAN solution in a hotel is based on a role concept. We have numerous stakeholders who have different needs:
Management
Restaurant
Finance
Concierge
Housekeeping
Guests
First of all, the stakeholder groups and trades should be segmented and separated from each other. Each stakeholder group is given a role that is allowed certain accesses depending on its function and the speed is defined. The guest requirement group is also divided into business travelers and private travelers. The private traveler has more of a need to read the newspaper, surf social networks or watch Netflix. Business travelers, on the other hand, use office software solutions such as Office365 or participate in video conferences. A Teams Call, for example, is much more sensitive than a Netflix movie. Consequently, the business traveler should be treated differently than the private traveler. This automation is done in the background by means of the PMS system and is not visible from the outside.
WLAN purchase

Purchase of hardware, such as routers, access points, etc. depending on the concept
Purchase of WLAN software, depending on the concept

based on your requirements

WLAN Out-Tasking

Creation WLAN concept
Configuration of the WLAN
WLAN network management
Support WLAN-Network
Obtaining the WLAN hardware

You choose individually which of the above points are purchased by you or implemented independently. Alternatively, we provide individual services depending on the volume.

WLAN as a Service

We take responsibility for the WLAN network and thus always provide the most optimal connection. We take over the lifecycle, capacity management, support, monitoring and operation of the network.
Our specialist for WLAN solutions in hotels: Aruba
Yves Wedekind is the professional around LAN and WLAN solutions of different manufacturers. As a Dipl. Ing. Inf. FH from the Lucerne University of Applied Sciences and Arts, he has learned the technical side from the ground up. With more than 10 years of experience in WLAN projects, he knows first-hand the requirements and challenges of customers such as Maxon, Komax, SABAG, Swisslos, Coop Mineralöl, Jura, Ronal and most recently Pilatus Flugzeugwerke. For a good year now, Yves has been dealing with the challenges of the hotel industry and sees great potential in digitalization and networking, not least with regard to the IoT.
Personal consultation
A team of various professionals will take care of your inquiries concerning the topics IT infrastructure, organisation, communication and co-operation in the modern business world. Please consign your questions and messages to our team. A proven expert in these topics will contact you.
We look forward to your inquiry!
To the contact form