Self Service in hotel
We support you with the digital guest journey from the idea to the implementation
The popularity of self-service is steadily increasing in the hotel industry. This is due both to customers' need for increased speed and to the current pandemic situation.
Webinar-Recording: Self Check-in – Why and how? (in German)
SandroBerger knows his stuff when it comes to self check-in. In this webinar, we will discuss the various options with him and discuss the needs of customers in more detail. We also use examples to show how self-service can be implemented in your hotel.
Which hotels benefit from self check-in today?
Which hotels will benefit from self-service in the future?
What types of self check-in and self check-out are there?
How can self-service be implemented in your hotel?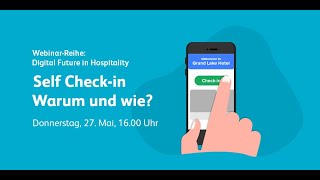 What are the goals of self-service in the hotel industry?
Self-service in the hotel brings many advantages. On the one hand, guests can complete various processes conveniently, stress-free and without waiting, while on the other hand, employees benefit from clearly structured processes and can concentrate on the really important communication with the guest. But self-service does not at all mean that there is no need for staff to be on site. Many guests need assistance or have questions about the process. The goals of self-service are the automation of regularly recurring processes, the avoidance of long queues at check-in and check-out, and the contactless service around the guest, which is especially necessary in pandemic times.
How can you set up self-service in your hotel in the best possible way?
The stages of the digital guest journey
Self-service can be offered at various stages of the digital guest journey. Starting with the booking, check-in, during the stay, at check-out or after the stay.

To implement self-service in your hotel, we recommend a step-by-step approach. These tips will help you:
Think through the entire process, but gradually implement only parts of it.
Stability comes before design - the system must work!
Educate your guests and your employees step by step.
Self-service should not be a substitute, but a complementary tool.
Above all, think through the payment process! There are legal hurdles here.
A successful partnership in the hotel industry
rebagdata and Leuchter IT Solutions have formed a close partnership for the benefit of their joint customers in the hotel industry. Together they combine expertise in PMS and IT infrastructure solutions for hotel operations. The result of this constructive partnership has already led to a new product on the market: Leuchter CLOUD protel Service.

If you are interested in a complete self-service solution, you can find more information at rebag.ch.
Personal consultation
A team of various professionals will take care of your inquiries concerning the topics IT infrastructure, organisation, communication and co-operation in the modern business world. Please consign your questions and messages to our team. A proven expert in these topics will contact you.
We look forward to your inquiry!
To the contact form