Hotel communication
Increasing guest satisfaction through digital processes


The guest is king! This old adage is gaining momentum again in times of digitization. Customer orientation and digitization have many things in common. One of them is communication in the hotel, which is optimized with digital processes and thus contributes to increasing guest satisfaction. Experts agree: digitization should serve the guest.
Webinar recording: Increasing guest satisfaction through digital processes?
In this webinar, three strong women, Julia Geffers, Melanie Moll and Maria Hunger, address how hotels can use the advantages they gain from digitization to increase guest satisfaction. This influence of digitization is still underestimated. Those win, who focus on the consistent alignment of digital processes with guest behavior!
What challenges and processes frequently occur in hotels?
How digital processes simplify communication?
How can you keep an eye on performance thanks to sustainable reporting?
How can you digitally support the implementation of the BAG Covid measures, for example?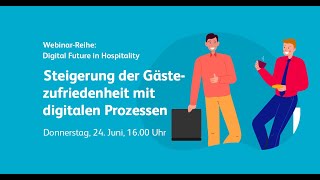 Internal communication
with Quality Operations from Hoxell
In a hotel, changes are constantly made at short notice.
The guest from room 103 arrives earlier,
the minibar in room 204 is not yet counted and
room 208 still needs to be disinfected.
The guest from 401 wants champagne for breakfast.
Each of these processes involves diverse employees from different areas who always need the most up-to-date information to know what needs to be done. With Hoxell's Quality Operations software, you can simplify communication in your hotel and save resources. Prerequisite: each employee receives a mobile work device with the software installed. When the housekeepers start their shift, they check their tasks on their workstation and see at a glance which rooms are newly occupied. In addition, they can be assigned a special task from the front office at the touch of a button. The governess can see at any time which room has been cleaned and can be checked. The housekeeping staff is also informed directly by the housekeepers if a repair needs to be made in a room. Even the breakfast staff keeps track of the guests' special requests for coffee, eggs and the like.
Relief for front office thanks to digital guest folder
With the Personal Concierge from Hoxell
Especially the front office is inundated with many questions from the guests. When does breakfast start? When do you have to leave the room at departure? Are there still free appointments in the spa? What activities can be done nearby? Of course, these questions still need to be answered, but it may be possible to refer the guest to the digital guest platform that any hotel can set up with Hoxell's "Personal Concierge." In addition to the quick check-in, guests can access all information about the hotel here, but also communicate with the front office via chat and view and book free appointments at the spa or other facilities. Thanks to the web-based solution, these functions can be accessed even before arrival.
Hoxell
Carlo Fontana has been a hotelier in Locarno since 2007. He developed the software solution Hoxell with the goal to enable service excellence for every hotel. Time and again, he received negative feedback from guests around their stay. He attributed this feedback to incomplete processes and suboptimal communication. In 2014, Hoxell was introduced to a hotel for the first time. This makes Hoxell a software by hoteliers for hoteliers.

Hoxell is compatible with all existing PMS systems on the market.

"Excellence does not come about simply by chance,
but through communication, right action and design;
my team should be able to make this happen at all times."

Carlo Fontana, Hoxell
Personal consultation
A team of various professionals will take care of your inquiries concerning the topics IT infrastructure, organisation, communication and co-operation in the modern business world. Please consign your questions and messages to our team. A proven expert in these topics will contact you.
We look forward to your inquiry!
To the contact form